Artist: Relly Tarlo
Label: Slowscan, 's-Hertogenbosch, The Netherlands
Slowscan vol. 45
Year: 2019
black 12" vinyl in offset printed sleeve
Design: Relly Tarlo & Johnny Van de Koolwijk
Limited edition of 250

€ 25.00
Postage & packing not included
Relly Tarlo (1949) is a Dutch-Israeli artist and pioneer in the field of sound sculpture installations. Tarlo was trained at the Koninklijke Academie van Beeldende Kunsten The Hague, Ateliers 63 Haarlem and the Jan van Eyck Academy Maastricht. He currently lives in Amsterdam. Characteristic of Tarlo's work is a fusion of image and sound. In the 1980s he built an installation that was played as an acoustic instrument called Tracks 2. This installation was performed in various museums in Europe. For Documenta 8 in Kassel (1987) he developed an installation exactly the size of the exhibition space called Rhythm Piece for 12 Columns.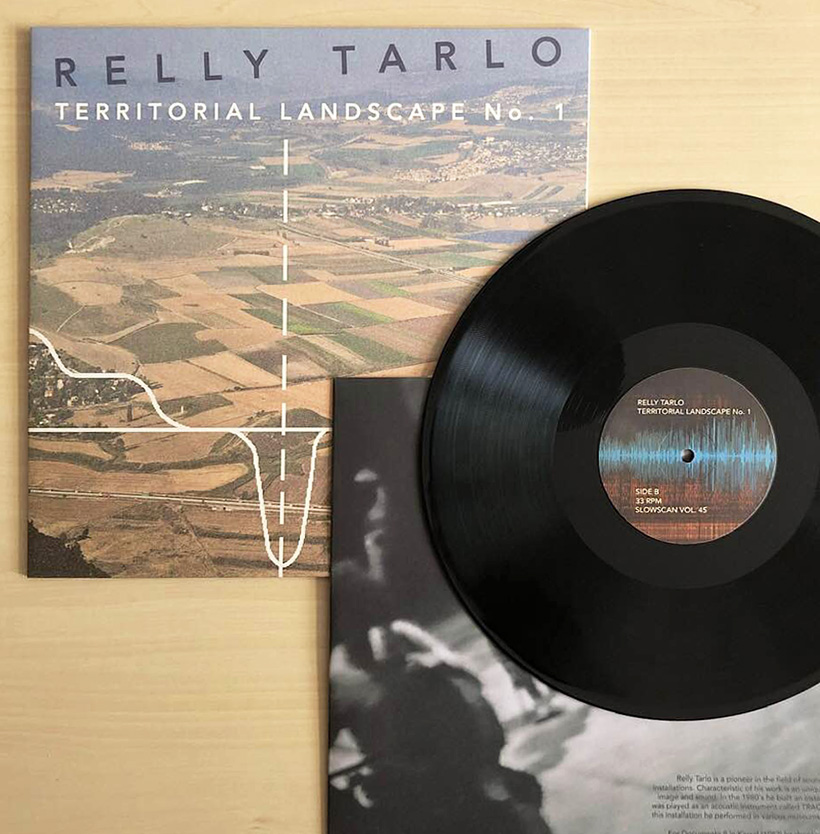 In the liner notes to this release Relly Tarlo writes that this particular sound work, like all his other works, is rooted in personal experience. One day, upon hearing that his mother was incurably ill, Tarlo collapsed while hearing a stream of repetitive and high-pitched sounds. Once he had tried to reconstruct those disturbing sounds with the help of cassette walkmans and record players and was playing the result to fellow-artist Efrat Natan, she immediately related the atmosphere of the piece to the sounds that can be heard in her native Beit She'an Valley in the north of Israel. Together with Natan, Tarlo travelled to Beit She'an to experience and record the sounds there. They turned out to be a mix of humming high voltage masts, distant bird songs, sounds of insects and the calls of the muezzin rolling and echoing back from the adjacent Syrian hills. 'I was surprised to hear how similar the stream of sounds was to the ambiance of my earlier composition', writes Tarlo, 'the same rhythms with the same flow in the surrounding sounds. I decided to name the composition Territorial Landscape No. 1'.
Territorial Landscape No.1 was mixed in 1978 at Josef Mar-Chaim Studio, Tel-Aviv, Israel and re-mixed by Slowscan in 2019.