Robert ('Bob') Rutman died in June 2021. The CD Beautiful Noise – The Sound of Bob Rutman is a loving tribute to Rutman and his music produced by his friends Bernd Jestram and Rex Joswig from Berlin and released on Moloko Plus from Schönebeck. The CD contains recordings of a live performance by Rutman at Coventry Cathedral in 2007 and material – ranging from Rutman's music to bawdy limericks in his voice – recorded by Jestram and Joswig in Bleibeil Studio Berlin between 2015 and 2020. The CD comes in a gatefold sleeve and an 8-page booklet with an interview of Rutman and photos by AnnA Motterie.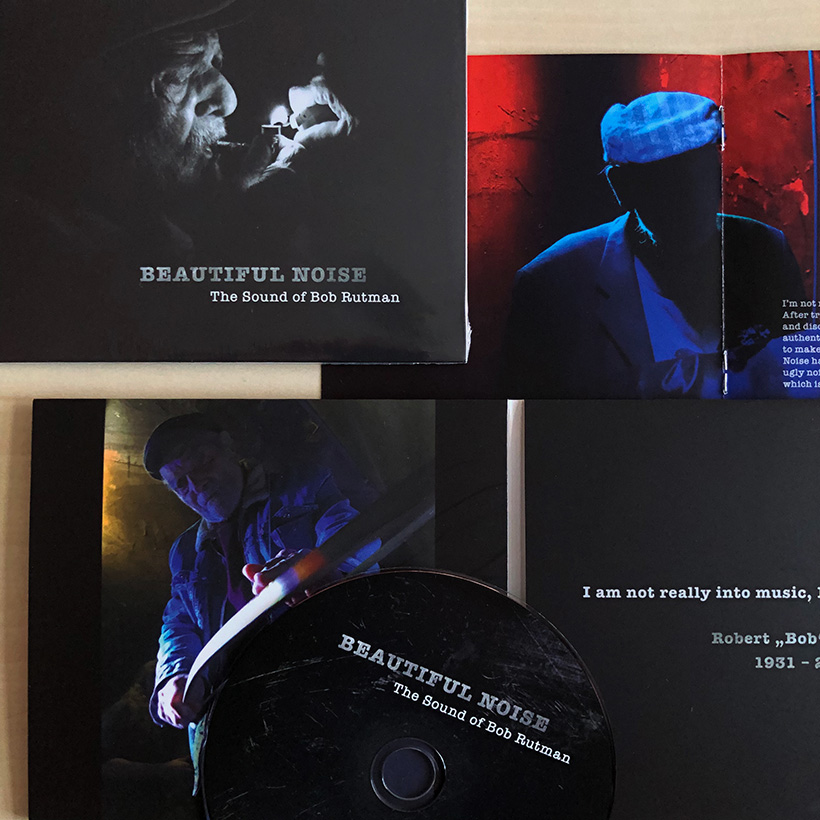 Bob Rutman was born in Berlin in 1931. His mother was Jewish and had to escape from Germany with her son when the Nazis rose to power. Rutman attended refugee schools in England during the Second World War and settled in the USA after having completed his education in 1950. He worked as a salesman in Texas before enroilling in art school in Mexico City, where he married and fathered a child. Together with his wife and son Rutman returned to the US in 1962 and started an art gallery in New York City. The gallery, called A fly can't bird but a bird can fly became a venue for multimedia events, in which music, film, poetry, theatre and visual art were combined and Rutman often collaborated with the poet Philip Lamantia and the sculptor Constance Demby. With the latter he developed his first sound sculptures in 1966 and 1967.
After having moved to Maine and having opened another gallery there, Rutman developed sound instruments from large sheets of metal with steel strings (steel cellos) and swinging steel rods (bow chimes), which he played with a bow. The Central Maine Power Music Company, founded in 1970 with Constance Demby as one of the members, was the first of Rutman's ensembles to use these instruments in compositions and multimedia events. Rutman returned to his native Berlin in 1989, where he studied Tibetan meditation and music and taught himself to throat sing. From that time his American industrial steel instruments were tuned to match his throat singing and his various Steel Cello Ensembles opened up to non-western instruments. Rutman continued to work, study and teach other musicians in Berlin until his death at the age of 90.