Artists: LAFMS (Los Angeles Free Music Society) compilation CD with 17 artists
Label: Ace & Duce / Transparency
Year: 2013
Package: CD comes in a six-panel digipak plus 4-page booklet
Tracks: 17 / 77 min.

€ 12.50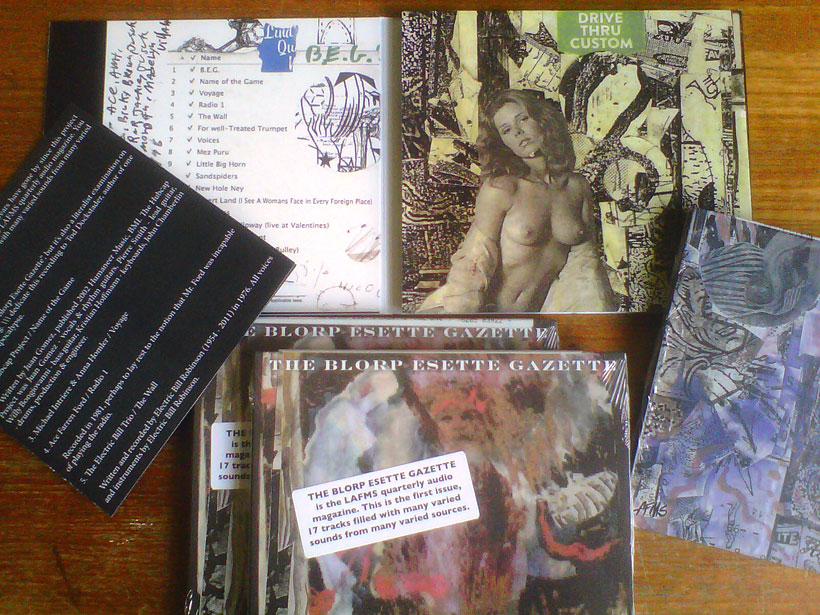 This CD is a 77 minute bare-back ride through the wilds of improvisational music. From the press release:
Thirteen years have gone by since The Blorp Esette Gazette was first imagined, but it is here now, the LAFMS quarterly audio magazine. This is the first issue, filled with many varied sounds from many varied sources. In 1977 Ace Farren Ford, one of the founding members of the Los Angeles Free Music Society, released a various artists compilation album on the LAFMS label called Blorp Esette on 12″ vinyl. Blorp Esette Volume 2, a double LP, was released in 1980. In 1999 his own label Ace & Duce teamed with the Transparency label to re-issue these LPs on CD and added 2 CDs of previously unreleased contributions, and in 2011 the 4-CD set was remastered by Ju Suk Reet Meate of Smegma and re-released. The concept of an audio magazine which would feature contributions of various member of LAFMS, past and present, and would keep the Blorp Esette series active, was developed by Ace Farren Ford in 2000. Now some 13 years later it has become the Blorp Esette Gazette, a quarterly audio magazine. This first volume of the Blorp Esette Gazette features contributions by Keith Mitchell (Monitor, Mazzy Star), Moris Tepper (Captain Beefheart), Kraig Grady, David Cotner, Smegma, Electric Bill Robinson, Michael Intriere & Anna Homler, the Tenses, Dennis Duck, Juan Gomez, the Mystery Band, Frank Bedal, Larry Easter (Linn County) & more, with cover art by Ace Farren Ford and Ju Suk Reet Meate.
The CD was released on Ace Farren Ford's Ace & Duce / Transparency label in the Fall of 2013.